The Feast "PvP Team Season" begins on May 28!

Take part in "The Feast (Team Ranked Match)" alongside your PvP teammates! Should your team rank 20th or above in the ranking ladder at the end of the season, each team member will earn special rewards. Gather your friends and prepare to engage in the fierce competition to come!
Season Period
Tuesday, May 28 through the start of Patch 5.0 maintenance
Rewards
Rewards will be distributed to each team member of the Top 20 teams per data center.


*More information on the rewards will be announced at a later date.




*There will be no Ranking (Tier) rewards for PvP Team Season.

The rewards are planned to be sent after Tuesday, July 2.
Creating a PvP team
Access the team board at Wolves' Den Pier.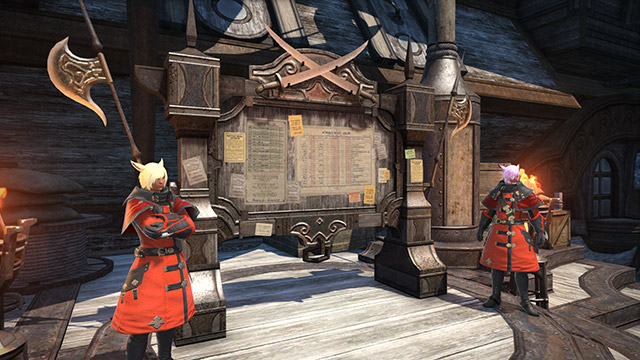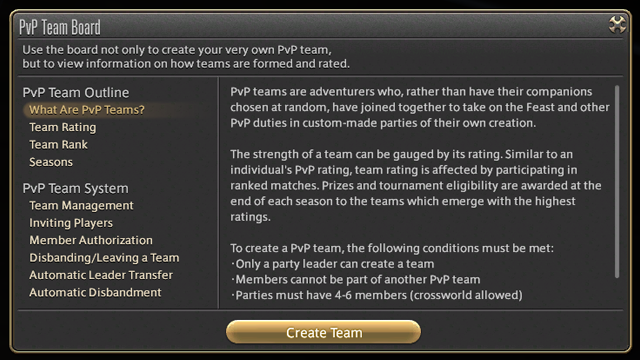 PvP Team RequirementsThis will allow you to create a team and view explanations of the team system.
You must fulfill these requirements in order to create a PvP team.
Be in a party of four to six players (cross-world parties allowed).
All party members must not belong to another PvP team.
All party members must have access to PvP instances.
* Players participating in the free trial cannot join a PvP team.
PvP Team Name
When creating a PvP team, a name must be chosen. Names already claimed on that data center cannot be used.

Other notices during the team season.
When the PvP team season commences, while you are able to create/disband or leave the team during the season, you will not be able to add any new team members. You may disband and recreate your team; however, the team rating will start from 0.

If a member of a PvP team transfers to another World within the same data center, they will remain a member of the team after the transfer is completed. If a team member transfers to a World in a different data center, they will disappear from the list of members after a period of time. If, as a result, the number of members falls below four, the team will be automatically removed from the ranking ladder.

You may also participate in the "PvP Team Season" with alternative characters on a different team.

For more details on PvP teams, click here.